Bottas wins first race of the season
BOITUMELO RANTAO
VALTERRI Bottas drove a composed and disciplined race to take home his first win of the season at the Turkish Grand Prix.
Bottas finished ahead of Red Bull pair Max Verstappen and Sergio Perez in a dominant display through the challenging track conditions. Red Bull sporting special white overalls on what would have been the Japanese Grand Prix weekend.
Perez on the podium for the first time in 9 races – last time being at the Paul Ricard Circuit in France. The Mercedes car looked quicker than the Red Bull on a circuit where much of the track data is unknown. Defending world champion Lewis Hamilton finished in fifth, after a late pit stop, behind Ferrari's Charles Leclerc.
The race got off phenomenally with all 20 cars off the line, searching for grip on the way into turn 1. AlphaTauri's Pierre Gasly caught some understeer, struggling to turn into the corner, making contact with Fernando Alonso – Gasly received a five second for the infraction.
Alonso, sitting in 17th, went on to collide with Haas' Mick Schumacher on the same lap.
On Lap 7 Bottas held a 2.2 second lead over Verstappen as Hamilton started his charge passing Tsunoda. Hamilton shortly found himself on the tail of Stroll, completing the overtake on Lap 9.
Ferrari's Carlos Sainz was masterfully carving his way through the field, after starting in 19th due to a Power Unit Change, passing Ocon on Lap 9 for 12th place.
Hamilton, after passing Stroll without much resistance, was 7 tenths off Norris running with quicker pace. On Lap 11, Hamilton made his way past Norris, posting a pair of fastest laps on Lap 11 and 12.
Sainz finally made his move on Vettel on Lap 14 – Vettel prevented an incident by pulling out of the corner conservatively. Hamilton continued his charge with a move on Gasly down the start/finish straight into fifth on Lap 14.
Sainz – on Lap 17- was two seconds from AlphaTauri rookie Yuki Tsunoda and lapping faster. Lap 18 found Bottas 3 seconds ahead of Verstappen, as Sainz passed Tsunoda. Dry line still has not formed on track, though Verstappen started posting fastest laps on Lap 17.
Bottas and Verstappen traded fastest laps on Lap 18 and 19 – Leclerc remained on his lonesome 2.6 seconds off the leading pair. Tsunoda loses three places with a nasty snap of understeer on Lap 22. Sainz put on a magnificent performance on the never-drying track – whilst Ricciardo became the first driver to pit for a new set of intermediate tyres. Ricciardo emerged in 18th, after entering the pit lane in 16th, struggling to get pace into the tyres.
On Lap 23, Leclerc increased the intensity, posting the fastest lap with his pace just 2.3 seconds off second-placed Verstappen.
Lap 27 saw Ocon attempt a move to pass Vettel for 10th. Mazepin holds up Hamilton – after being shown the blue flag – on Lap 29. Vettel and Ocon continued to tussle for position as Leclerc continued his aggressive pace. No teams looked prepared to risk the pit stop as Ricciardo was still not getting performance from the new tyres.
Sainz was now pushing on 1.2 seconds off Stroll moving into Lap 31. Bottas pushed his lead over Verstappen to 4 seconds.
Sergio Perez under pressure on Lap 33 as the track conditions refused to improve.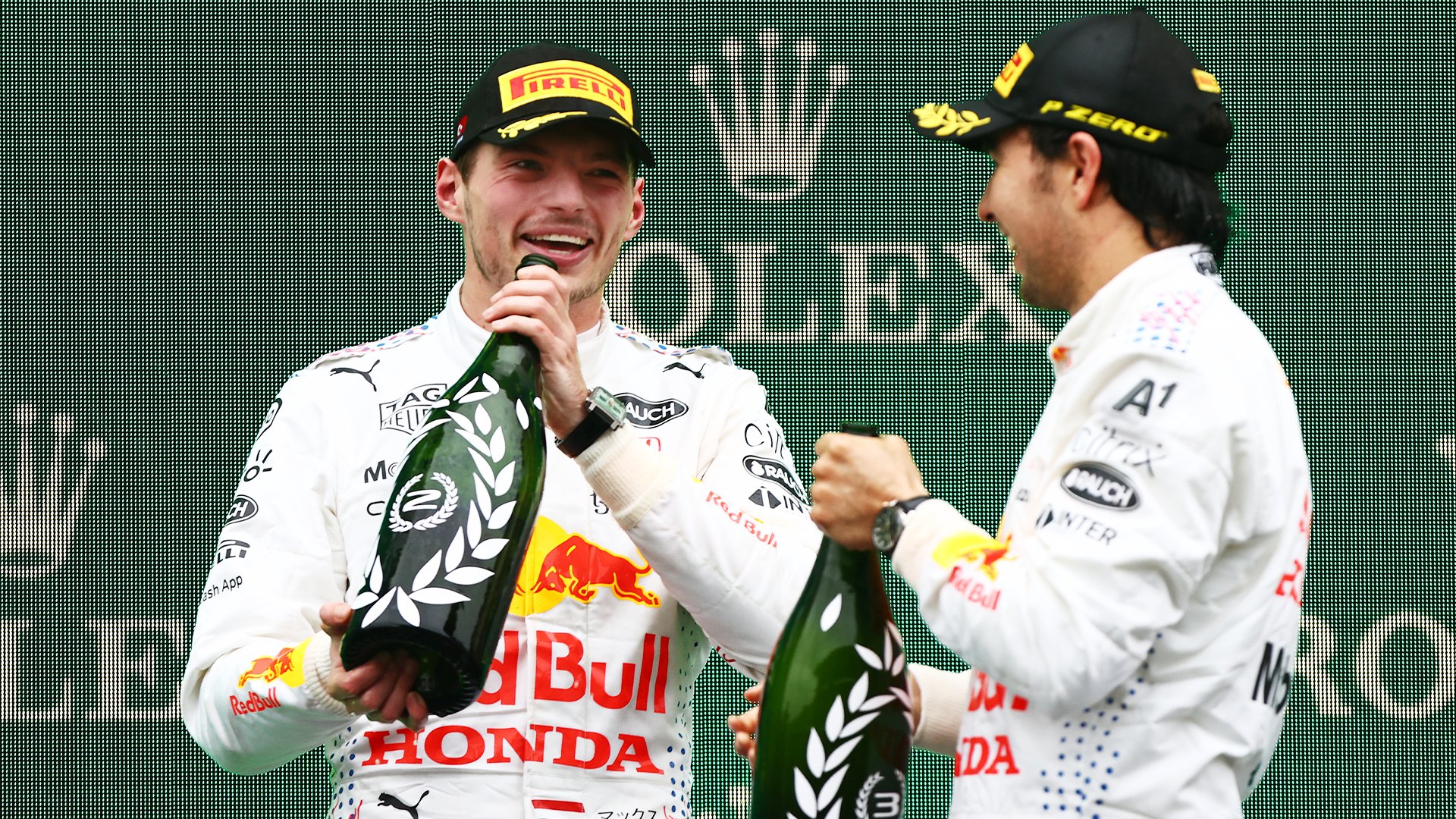 Lap 35 Hamilton pulls a move on Perez – as Perez was reluctant to give up fourth. The Mercedes showed phenomenal straight line speed but the Red Bull fought back valiantly – crossing the pit lane entry before turn 14 in the battle.
Red Bull bravely started the pit lane window for the leaders as Verstappen went into the pit lane for a blistering 2.1s stop on Lap 36. Mercedes were sure to cover the undercut, sending Bottas for a fresh set of tyres at the end of the 37th lap. Sainz and Alonso followed on into pit lane – with Ferrari delivering a disappointing 8.1 second stop for Sainz. 
Vettel courageously chose the medium compound whilst conditions were still unforgiving. Vettel went on to spin on lap 38 and confessed "It's not working" as he slid all over the track.
Elsewhere on the track Leclerc was struggling with tyre wear on his older intermediates – going off track still maintaining his 6.6 second lead. Joining Leclerc as one of the three drivers who hadn't entered the pitlane was Hamilton and Ocon. Hamilton's Race Engineer calls for Hamilton to "box" on lap 42 for new intermediates, Hamilton asks "why?", as he still feels comfortable on the worn out intermediates.
Bottas one second behind Leclerc as he understeers into turn 12 on Lap 44. Leclerc locked up on lap 45 and flat spotted his already worn tyres, Leclerc's struggles become key as Bottas starts prowling on Lap 46.
Leclerc opted to pit for new tyres on Lap 47, with a full race without a stop looking unlikely, after an overtake by Bottas. Leclerc emerged in fourth, after his pit stop, and 11 seconds behind Hamilton as the podium started to take shape.
Both Ferrari's started getting performance from the new intermediates, Leclerc initially struggled with graining and blistering. Hamilton, on the orders of his team on the pit wall, enters the pit lane at the end of lap 50. The old set of tyres, absolutely worn at the stop, as Hamiton ends up fifth after the stop.
Perez passed Leclerc on Lap 51 – Perez with much quicker pace than Leclerc after pitting much earlier and passed the blistering stage of his tyres. Hamilton immediately onto the tail of Leclerc's Ferrari on Lap 53.
Hamilton subsequently began complaining of small grains on the new tyres and losing time to Leclerc.
Perez, who was lapping 6 seconds ahead of Leclerc on Lap 56, clinging on to the final podium place. Bottas still moved the fastest on Lap 56, 10 seconds ahead of Verstappen, ticking all the boxes on his way to a win in Turkey.
Bottas went all the way to the line taking his first win of the 2021 season and his first win since 2020 in Russia.